The admin can fill in or edit the basic information of the project, change project settings or ask for support.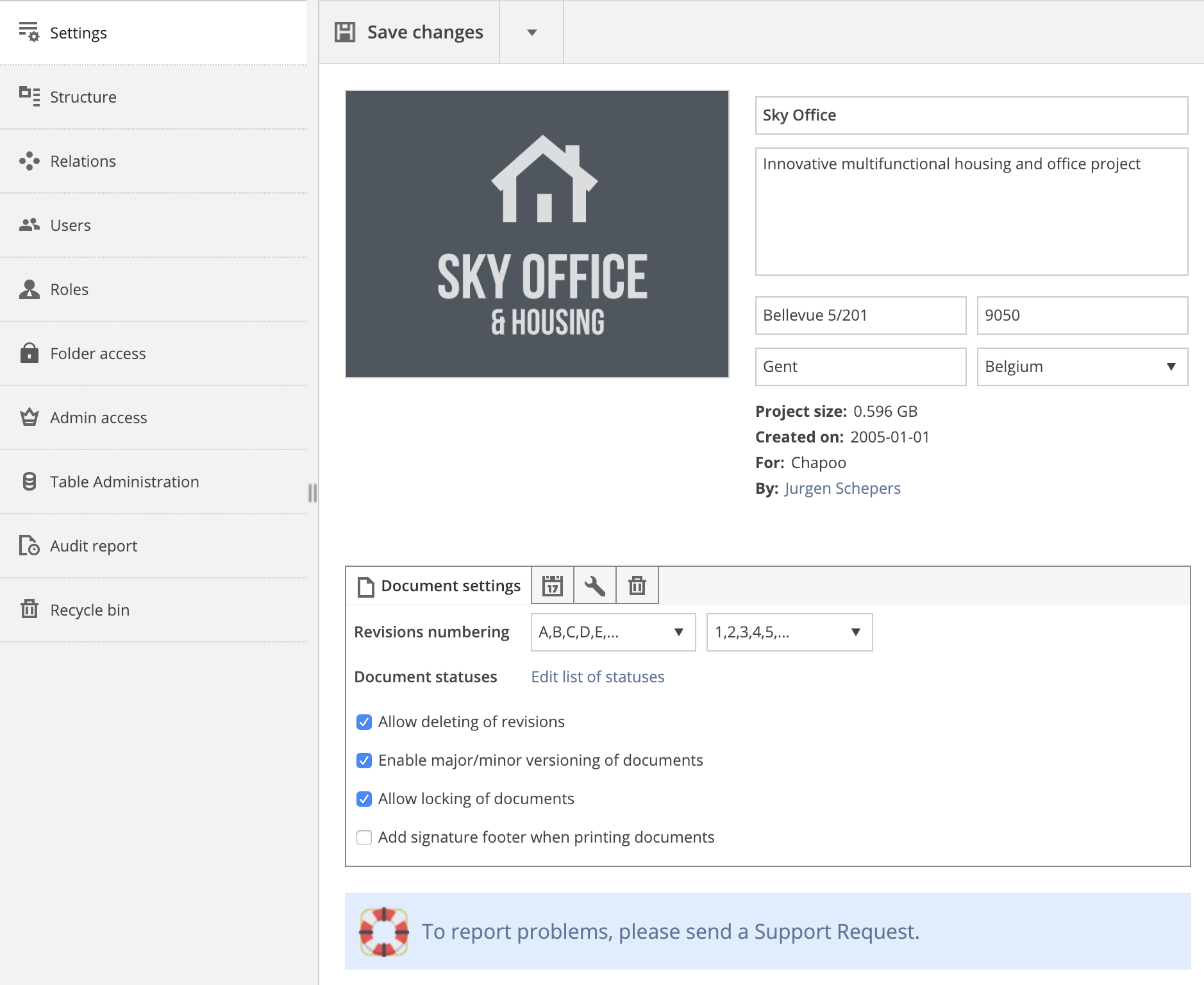 Basic project information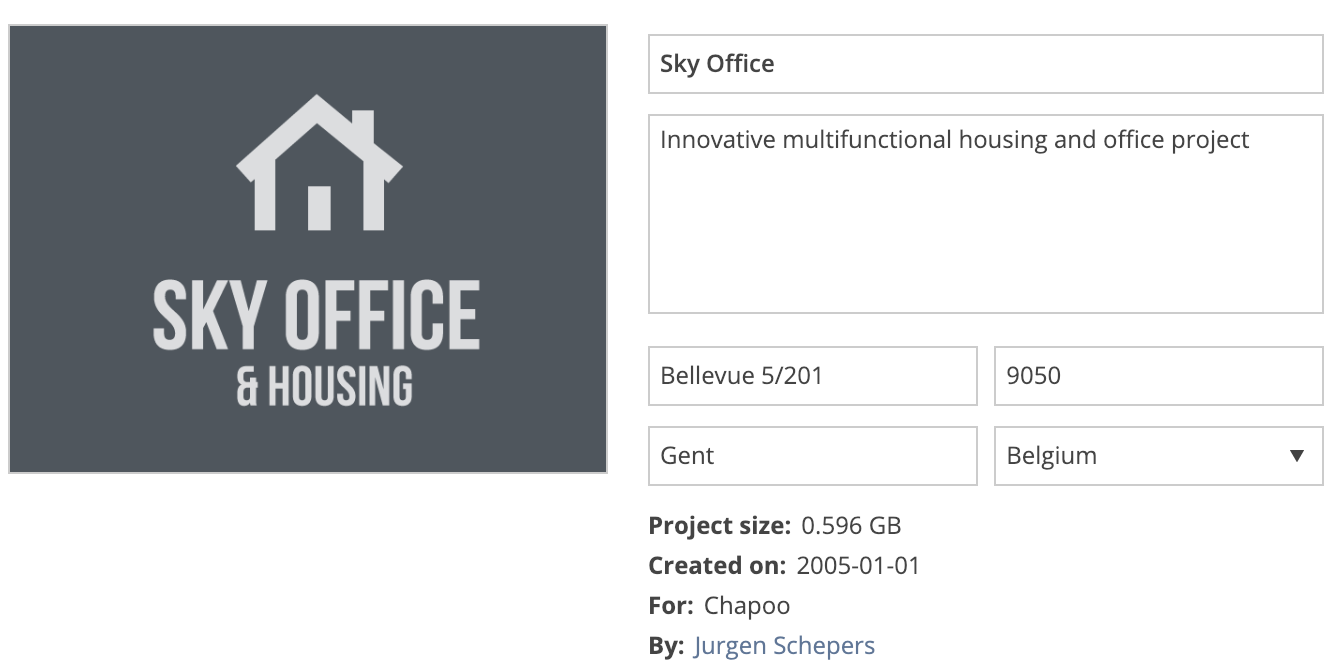 This section allows you to fill in
Name of the project

Description of the project

Address of the project

Picture of the project
Document settings

This section allows you to define how documents are treated in this project by defining revision numbering, statuses...
Revision numbering
By default revision numbering consists out one letter or number. If you enable the "major/minor versioning of documents", two drop downs will become visible.
The one of the left is the major version and the on the right is the minor version. The setting you see in this example will generate document revisions like this:
Edit document statuses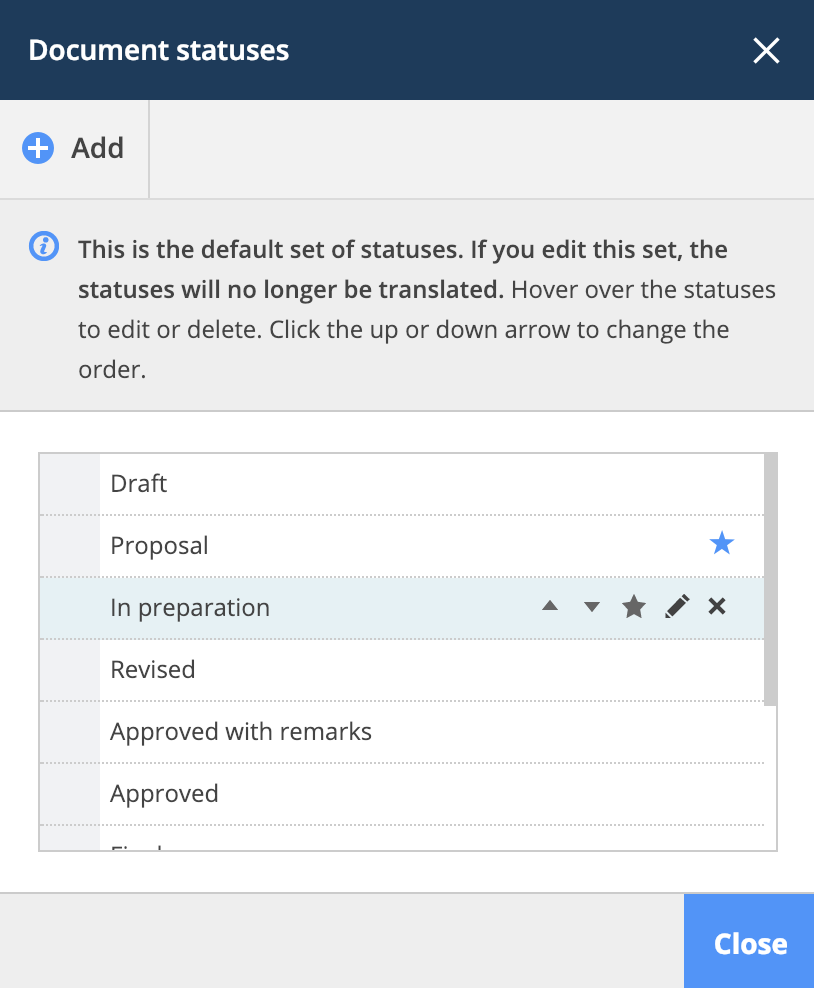 Bricsys 24/7 comes with multiple predefined statuses that are translated automatically to the user's language. However it is possible to add new statuses, edit the existing ones and make a status a default status.
The order of the statuses in this list is how they will be shown in the dropdown when uploading a new document.
Default status
You can set a default status by clicking the star icon. When uploading a document, this will be the selected status by default.
Allow deleting of revisions
Allow users who can delete the document to delete a specific revision. Note that a document always needs at least one revision. If you want to delete all revisions, you need to delete the document.
Enable major/minor versioning of documents
Lets users promote a revision to a new major version. This is a very handy feature that allows you to mark certain stages the document has passed through.
Allow locking of documents
Allow users to download and lock a document. A locked document cannot be moved or edited. It can be unlocked an administrator or the user that locked the document or by uploading a new revision of the document.
Add signature footer when printing documents
This will add an extra line in the footer of each document that is printed to pdf:
Printed by Firstname Lastname (date)
Time and date setting

Administrator settings

Can view all notes, notifications and annotations
Enable administrators to view all private notes, notifications and annotations. Users will be informed that the message can be read by administrators of the project when creating a new private message.
Can replace last document revision
Allow administrators to upload a revision to a document and check the option "Replace last revision" in the upload dialog. A feature that comes in handy when a wrong revision was uploaded and you need to replace it.
Enable two-factor authentication
Enable double authentication for this project. This means that users need to login first to the system with their username and password but if they want to enter this project, a token will be asked for enhanced security.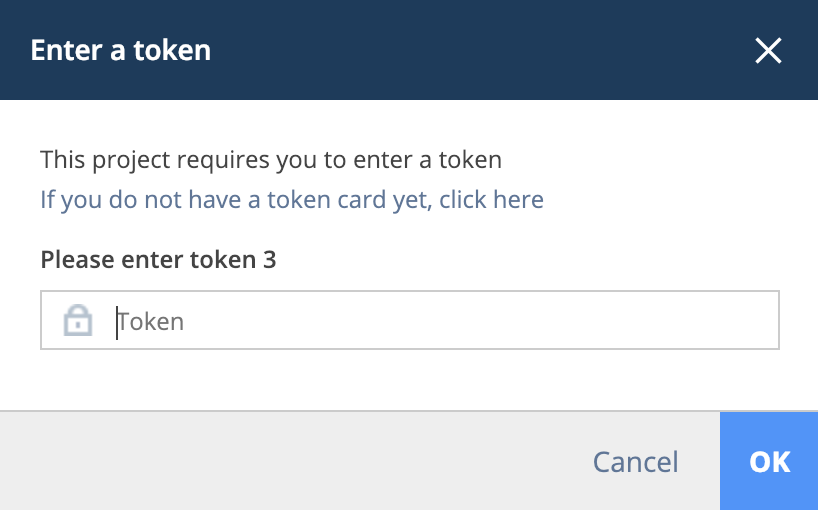 The user can request the token card in the dialog that asks for the token. An email will be send with a unique link to download the token card.
Example of a token card: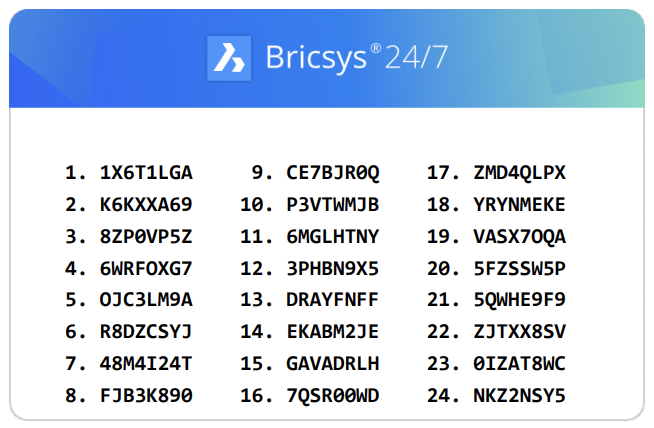 Pay attention!
A token card is user specific and cannot be used by other members of the project!
Recycle bin settings

Lock the recycle bin if you don't want anything to be removed from the recycle bin. Note that once this is locked, it can only be unlocked by filing a Support Request to the Bricsys 24/7 team.